FROM REPRESSION TO REMEMBRANCE
THE NATIONAL FUND OF THE REPUBLIC OF AUSTRIA FOR VICTIMS OF NATIONAL SOCIALISM
"We acknowledge all the facts of our history and the deeds of all sections of our people, the good and the evil; and just as we take credit for the good, we must also apologise for the evil – to the survivors and to the descendants of the dead."
Excerpt from the speech made by Dr Franz Vranitzky before the National Council on 8 July 1991.
Taken from the stenographic minutes of the 35th session of the National Council
In 1995, on the 50th anniversary of the Second Republic, the National Fund of the Republic of Austria for Victims of National Socialism was established at the Parliament as a late expression of Austria's special responsibility towards the victims of National Socialism. Its establishment only became possible once the perception of the years of National Socialism in Austria had evolved: from viewing Austria as the first country to fall victim to Hitlerite aggression, to a more nuanced perspective that does not exclude aspects of responsibility.  
In 1991, Federal Chancellor Franz Vranitzky made explicit reference to Austria's historical responsibility in a speech before the National Council and, on behalf of the Federal Government, promised help to all those who had not yet received adequate consideration.
Four years after this declaration the National Fund commenced its work. Some 30,000 survivors from Austria living around the world have since accepted the gesture payment from Austria. Providing recognition and support for survivors will remain a key task of the National Fund in the future, as will advising the victims of National Socialism and their families.
Over the years, this original undertaking was joined by other tasks that were also an expression of historical responsibility,
such as those involving the restitution of looted art, the renewal of the Austrian exhibition at the Auschwitz-Birkenau Memorial, and the Shoah Wall of Names Memorial in Vienna.    
 In 2001 the Washington Agreement was concluded between Austria and the United States of America. It laid the foundation for restitution and compensation measures to be implemented by two funds, both administered by the National Fund: the General Settlement Fund for Victims of National Socialism and the Fund for the Restoration of the Jewish Cemeteries in Austria.
 Advancing and passing on knowledge about National Socialism, its aftereffects and the fates of its victims is matter of particular importance, as is preserving the memory of the victims. The National Fund subsidises projects that promote remembrance and learning from history, and publishes memoirs of Holocaust survivors.
 By passing the memory on to younger generations the National Fund is contributing towards a future in which there is no place for dictatorship, racism and Antisemitism.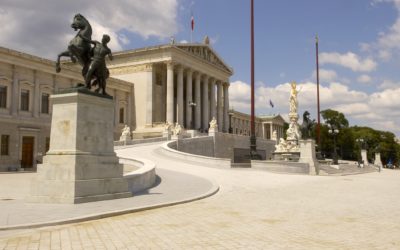 The National Fund was established in 1995 at the Austrian Parliament to express Austria's special responsibility towards all victims of National Socialism. As such, it is aimed at all survivors, regardless of why they were persecuted – whether on political grounds, on...
read more